Recent Activities
NEW LOCOMOTIVES
Derailments and accidents on the railways do happen from time to time and the N.S.W. Government Railways had a wide variety of 'crane' locomotives to fulfill the heavy lift role, from small X10 class tank engines fitted with a luffing jib, to very large multi-axle self-propelled recovery cranes - hence they were classifed as locomotives.

The largest capacity recovery crane in Australia was built in 1957 by the German company Krupp at their Ardelt workshops. Krupp made many railway cranes used worldwide. Locomotive crane LC1060 is a six axle, 120 ton capacity breakdown crane and was the last steam locomotive placed into service in N.S.W., in 1960. It was originally steam operated and attended many derailments over the years, but was converted to diesel operation in 1991 using a recycled engine, torque converter and gearboxes from other locomotives. (Photo below by Ian March, courtesy of Stephen Preston, showing cranes 1073 and 1060, on the right, combining to recover a derailed 80 class locomotive at Condobolin, N.S.W.)

LC1060 was recently purchased by the Museum from Pacific National Pty. Ltd., in full working order, and adds to the significant group of imported cranes in the collection - 178 (built by Tangye Brothers Engineers - U.K.) then 1050 (built by Craven Brothers - U.K.) and 1081 (built by Industrial Brownhoist - U.S.A. for U.S. Army).
NEW ROLLINGSTOCK
Freight trains of the past carried many different products. Bitumen and fuel oil were some of those commodities that were carried in bulk tankers, or more correctly rail tank cars. A small collection of unique rail tank cars had been stored on the old Sandown industrial branch in Sydney, and were being used as temporary storage. These 4 tank cars were examples from very old and now non-existant companies, such as Plume, Vacuum, Mobil, Emoleum and even the Department of Defence!

Following negotiations with the current owners, SAMI Bitumen Technologies, they spent considerable time and effort to empty the contents of each tank car before generously donating all 4 rail tank cars to the Museum, namely NTBF 3435 (EMO 5), NTBF 3438 (EMO 8), MOA 141, and NTBF 3441 (EMO 11). The Museum transported all of the cars to Dorrigo using it's own equipment.
The Sydney suburban rail network is one of the oldest and most extensive in the world. Since 1926 the old 'Red Rattler' single deck carriages were the only cars in the fleet. In 1962 the N.S.W.G.R. planned to introduce 120 revolutionary double-deck design trailer carriages to increase the passenger capacity. These carriages are the first double-deck rollingstock built in Australia and were built by the Sydney firm Tulloch Limited.
Some years after their withdrawl from service in 2003, RailCorp's Office of Rail Heritage commenced offering some of the Tulloch cars to the various railway presevation groups. Our Museum purchased carriage T4840 as our example of this engineering design as it was in near original and complete condition. T4840 also has the distinction of being part of the very first, 8 car, all double-deck train to operate in 1969.
TRACKWORK
The Museum already has an extensive selection of the different types of track components such as turnouts, crossings and slip points. All of these trackwork components allow trains to cross from one line to another line. Our current range of trackwork include left and right hand turnouts, symmetrical or 'Y' turnouts, a diamond crossing, a double slip and two rare outside slips. A missing piece in the track display was a 'scissors' crossover, as now very few remain in N.S.W.

The Museum was recently offered a scissors crossover from the GrainCorp Junee Sub-Terminal sidings, which were being upgraded. Australian Rail Track Corporation (ARTC) and GrainCorp generously allowed the redundant crossover to be purchased by the Museum on the proviso that we had 3 days in which to remove the enormous trackwork component before the replacement track was laid in it's place. This particular scissors crossover is really five individual track components in one ie. two left hand turnouts, two right hand turnouts and a diamond crossing in the middle connecting all of the turnouts. This massive crossover is over 250 feet long and quite extravagant for a country siding!

Our Museum volunteers were keen to see this trackwork incorporated into our display site at Dorrigo and rose to the occasion - the complete scissors crossover was removed in a weekend, and transported to Dorrigo using our own semi-trailer - a great effort from a dedicated crew. It is now being incorporated into the track layout on the display site.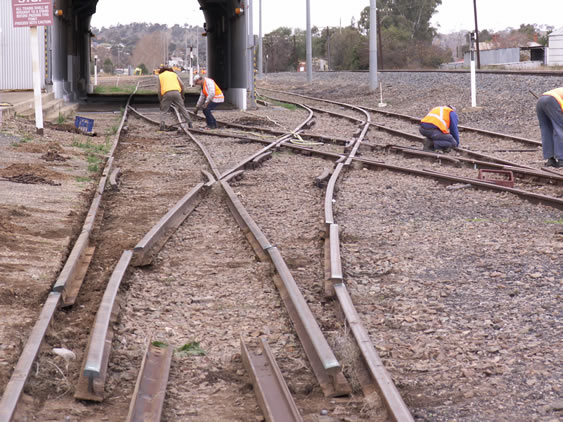 OTHER PROGRESS
One of the oustanding tasks from the previous N.S.W. Department of State & Regional Development infrastructure grant of $70,000 to the Museum was the construction of a security fence around part of the Dorrigo Railway yard site. The application of this grant was delayed due to the difficulty in determining the new railway yard boundary, as some of the gazetted railway yard now has a local council road through it, the issue was eventually resolved with Bellingen Shire Council.

The Museum called tenders within the local Dorrigo / Bellingen / Coffs Harbour businesses for the construction of over one kilometre of security fencing within the limits of funding available. Of course the Museum was able to capitalise on the lineal quantity of fencing built, by using its own earthmoving equipment and volunteer labour to clear the new fence line boundary of old fences and debris prior to the contractors commencing. We estimate we were able to gain a few hundred metres 'extra' fencing as a result. The security of the exhibits in the railway yard has improved as a result of this funding.

As a result of a review of the Rail Safety Act 2008, all heritage rail operators were required to re-submit their accreditation to operate any form of rollingstock (over 600mm gauge). The Museum completed all of the necessary requirements of our individual Safety Management System and was granted accreditation by the N.S.W. Independent Transport Safety & Reliability Regulator (ITSRR) for the current scope of our operations. Naturally our accreditation will be expanded as our rail related activities change in due course.